Iwonka urodziła się 30 września 1973 r. w Tarnobrzegu.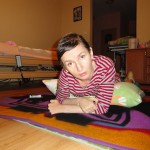 Jej panieńskie nazwisko to Adamiec. Uczęszczała do Szkoły Podstawowej nr 4, a następnie do Liceum Ogólnokształcącego    w Tarnobrzegu. Naukę kontynuowałam w Studium Medycznym   w Sandomierzu. W 1995r. wzięliśmy ślub i Iwonka zamieszkała razem ze mną w Pysznicy koło Stalowej Woli. W 1996r. spełniając swoje marzenia o niesieniu pomocy innym rozpoczęła pracę jako pielęgniarka na Oddziale Neurologii w Stalowej Woli.
Mamy dwoje dzieci: 13 – letnią Zuzię i 18- letnią Natalię. Do 2009 roku prowadziła normalne życie. Była osobą wesołą ,miłą , uczynną i bardzo lubianą przez wszystkich. 29 grudnia 2009 r. została poddana zabiegowi embolizacji. Przyczyną była malformacja naczyniowa tętniczo- żylna lewej okolicy czołowo – ciemieniowej. Nie spodziewaliśmy się powikłań , ponieważ lekarze twierdzili , że procent powikłań jest znikomy ( 1%). Niestety po embolizacji naczyniaka wystąpił krwotok domózgowy, skutkiem czego była niewydolność oddechowa oraz niedowład czterokończynowy. Konieczne było usunięcie krwiaka śródmózgowego i wycięcie częściowo zaembolizowanego naczyniaka. Po tej operacji nastąpiła ostra niewydolność oddechowa wymagająca sztucznej wentylacji płuc, która trwała 3 tygodnie. Obecnie żona cierpi na niedowład czterokończynowy spastyczny ( nie chodz oraz bardzo słabo porusza ręką )i afazję ( nie mówi) , jednak reaguje na bodźce, rozumie wszystko co się do niej mówi, a także porozumiewa się niewerbalnie ( mruga oczami, podnosi i opuszcza kciuk). Wracając myślami do rokowań, jakie mieli wobec niej lekarze ( nie dawali nawet szansy na przeżycie) to wierzyć nam się nie chce, jak wielu z nich wystraszyło nas na starcie, ale ten strach nas tylko motywował, do intensywniejszej pracy. Iwonka wie, że ma dla kogo żyć. Jest młoda i silna więc walczy z całych sił o powrót do zdrowia, tylko potrzebne jest wsparcie, i finansowe i sprzętowe i psychiczne. Bez tych trzech składowych efekty są. . . mierne.
Moja żona karmiona jest drogą przewodu pokarmowego przez PEG , jest także osobą leżącą, więc wymaga całodobowej opieki. Ponieważ ja pracuję to przez cały czas wspiera mnie jej mama, która poświęca cały swój czas. Iwonka wymaga stałej opieki lekarskiej, ścisłej diety oraz intensywnej rehabilitacji, by móc wrócić do normalnego życia. Wymaga stałej opieki lekarskiej, ścisłej diety oraz intensywnej rehabilitacji, by móc wrócić do normalnego życia. Mimo tak olbrzymiego urazu, ciągle robi postępy, które są możliwe do osiągnięcia tyko poprzez kompleksową , intensywną i niestety bardzo kosztowną rehabilitację. Aby powrót do zdrowia okazał się możliwy konieczne jest skorzystanie z zabiegów rehabilitacyjnych których miesięczny koszt wynosi około 16 tys. złotych. Nasza sytuacja materialna jest bardzo trudna
Wierzę jednak w ludzi i ich chęć niesienia pomocy , która jest jej tak bardzo potrzebna, aby znów stać się tą samą radosną kobietą tak bardzo pragnącą żyć i uszczęśliwiać innych. My już wiemy jak kruche jest zdrowie, życie, poczucie bezpieczeństwa i spokoju, dlatego tak sobie to wszystko cenimy!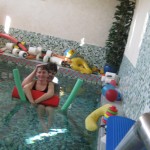 Od momentu operacji przebywałam w następujących ośrodkach:
Klinika Anestezjologii i Intensywnej Terapii w Lublinie ( od 30.12.2009 – 29.01.2010)
Powiatowy Szpital Specjalistyczny w Stalowej Woli Oddział Neurologiczny ( od 29.01.2010 – 23.03.2010)
Szpital Uniwersytecki im. Dr A. Jurasza Katedra i Klinika Rehabilitacji w Bydgoszczy (od 23.03.2010r. – 27.04.2010r.)
Powiatowy Szpital Specjalistyczny w Stalowej Woli Oddział Neurologiczny (od 28.04.2010 – 27.05. 2010)
Szpital Wojewódzki nr 2 im. Św. Królowej Jadwigi w Rzeszowie Kliniczny Oddział Rehabilitacji (od 27.05.2010r. – 19.06.2010r.)
Powiatowy Szpital Specjalistyczny w Stalowej Woli Oddział Neurologiczny (od 21.07.2011r. – 27.08.2010r.)
Wojskowy Szpital Uzdrowiskowo – Rehabilitacyjny w Busku Zdroju (Od 02.01.2011r. – 22.01.2011r.
Powiatowy Szpital Specjalistyczny w Stalowej Woli Oddział Neurologiczny ( 2.02.2011- 11.02.2011)
Polskie Centrum Rehabilitacji Funkcjonalnej VOTUM- RehaPlus S.A. Kraków (od 10.04.2011r. – 07.05.2011r.)
Wojskowy Szpital Uzdrowiskowo – Rehabilitacyjny w Busku Zdroju (od 1.08.2011 – 11.09.2011)
Polskie Centrum Rehabilitacji Funkcjonalnej VOTUM- RehaPlus S.A. Kraków (I- II. 2012r.)
Ośrodek Rehabilitacyjny Małe Gacno koło Bydgoszczy ( od 20.V.2012 – 9.VI.2012r.)
Szpital Specjalistyczny Ducha Świętego w Sandomierzu Oddział Rehabilitacji (od 24.I. 2013 – 14.II.2013)
Ośrodek Rehabilitacyjny Małe Gacno koło Bydgoszczy (01.IV.2013 – 27.I.2013)
Wojskowy Szpital Uzdrowiskowo – Rehabilitacyjny w Busku Zdroju ( 04.VIII.2013- 25.VIII.2013)
Ośrodek Rehabilitacyjny Małe Gacno koło Bydgoszczy ( 10.XI.2013 -23.XI.2013)
Polskie Centrum Rehabilitacji Funkcjonalnej VOTUM- RehaPlus S.A. Kraków ( III.2014)
Ośrodek Rehabilitacyjny Małe Gacno koło Bydgoszczy (V.2014)
Ośrodek Rehabilitacyjny Małe Gacno koło Bydgoszczy (IX.2014)